05.11.2018
Prof. Dr. Alexander Siegmund und Dipl.-Geogr. Svenja Brockmüller auf "Sustainable Development in Action Conference" - SDiA 2018
---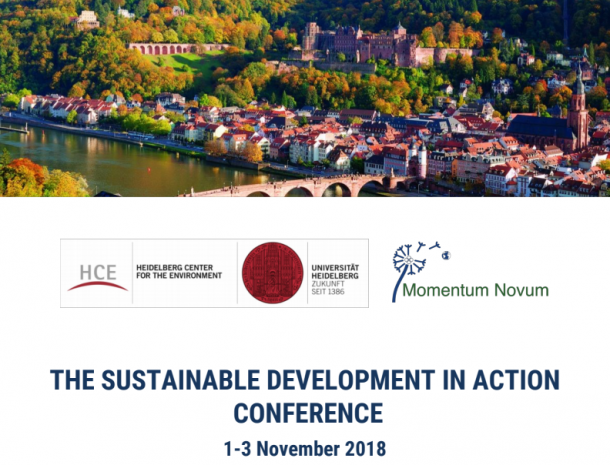 Vom 1.-3.11.2018 fand die Sustainable Development in Action Conference - SDiA 2018 in Heidelberg statt, organisiert durch das Heidelberg Center of the Environment (HCE) in Kooperation mit Momentum Novum. Rund 100 internationale Teilnehmer/innen verschiedenster Fachdisziplinen trafen sich mit dem Ziel, gemeinsam an spezifischen Nachhaltigkeitsthemen zu arbeiten und konkrete Maßnahmen für eine nachhaltigere Welt zu ergreifen. Neben Keynote-Vorträgen von Henri Landes (Goodplanet Foundation) und Simon Anholt (The Good Country) wurden acht interaktive Workshops rund um die Themen Klimawandel und nachhaltige Entwicklung angeboten, darunter "Strategies for Sustainable Climate Change Adaptation" durch Prof. Dr. Alexander Siegmund.
In den vier zweitägigen Actions Labs "Sustainable Startup Lab", "Simulation of the COP 24", "Design Thinking for Sustainable Development" & "Scenario Workshop: Sustainable Cities of the Future" vertieften die Teinehmer/innen anschließend die adressierten Themenfelder und Arbeitstechniken. Auch im TRANSFER TOGETHER Teilprojekt "BNE - Climate Change Education" nutzt die Abt. Geographie Szenariotechniken zur Klimawandelkommunikation im Austausch mit Unternehmen und Gesellschaft.
Ein Rahmenprogramm mit Get-together im Mathematikon, Markt der Möglichkeiten im Marsilius-Kolleg, Empfang im Spiegelsaal des Rathauses und Abschlusszeremonie/Konferenzdinner in Aula und Bel Etage der Alten Universität bot darüber hinaus vielfältige Gelegenheiten zum Austausch von Nachhaltigkeitsideen und intensiver Vernetzung.


Impressionen der SDiA 2018 Conference: Scenario-Workshop "Cities of the Future - What does Sustainable Urban Development look like in 2050?" (li.), Ergebnispräsentation (Mitte) und Abschlusszeremonie in der Alten Aula der Universität Heidelberg (re.)
Fotos: rgeo/S. Brockmüller & Momentum Novum