16.11.2018
Projektabschlusstreffen YCHANGE in Heidelberg
---
Am Montag, 12.11.2018 und Dienstag, 13.11.2018 fand in den Räumlichkeiten der Research Group for Earth Observation (rgeo; Abteilung Geographie der Pädagogischen Hochschule Heidelberg) das Abschlusstreffen des Projektes YCHANGE statt.
Im Projekt YCHANGE, gefördert von der Europäischen Union und der Schweizer Movetia-Stiftung,  steht die Vermittlung von Kenntnissen der fernerkundlichen Satellitenbildauswertung im schulischen Unterricht im Fokus: Wegen der hohen Relevanz satellitengestützter Erdbeobachtung für eine Vielzahl ökonomischer, ökologischer und sozialer Fragestellungen soll der Themenkomplex Fernerkundung wesentlich prominenter im Unterricht eingesetzt und vermittelt werden.
Die Projektpartner der Universitäten Tallinn und Prag, der Fachhochschule Nordwestschweiz und der Pädagogischen Hochschule Heidelberg haben vor diesem Hintergrund im Rahmen des Projektes YCHANGE Lehrmaterialien erstellt, einen internationalen Vergleich des Einsatzes der Fernerkundung im Unterricht durchgeführt, sowie eine multilinguale Plattform für die Durchführung fernerkundlicher Schulprojekte entwickelt (www.ychange.eu). Die bereitgestellten Materialien wurden in zahlreichen Lehrkräftefortbildungen präsentiert. Parallel dazu wurden im Rahmen wissenschaftlicher Begleitforschung Daten zur Evaluation der Materialien gesammelt.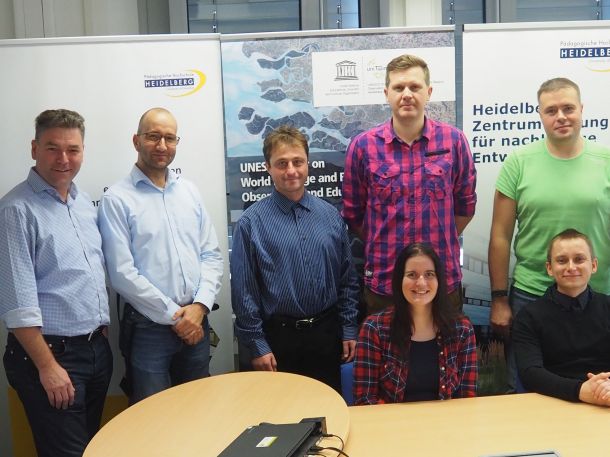 Teilnehmende am YCHANGE-Projektabschlusstreffen im November 2018 in Heidelberg. Von links nach rechts, stehend: Prof. Dr. Alexander Siegmund, Dr. Martin Hämmerle, Pō™emysl Štych Ph.D., Priit Tammets M.A., Pjotr Savitski M.Sc.; sitzend: Dr. Kathrin Viehrig, Mgr. Josef Laštovička (Foto: M. Pieske/ rgeo)
English version: Final YCHANGE project meeting in Heidelberg
On Monday, 12 November 2018 and Tuesday, 13 November 2018, the final meeting of the YCHANGE project took place at the Research Group for Earth Observation (rge;, Department of Geography, Heidelberg University of Education).
TheYCHANGE project is funded by the European Union and the Swiss Movetia Foundation. Its focus is on the transfer of remote sensing competencies in regular school teaching: Because of the high importance of satellite image analysis with respect to a broad range of economic, ecologic and social discussions and dynamics, teaching and applying remote sensing needs to be placed more prominently in class rooms.
To push this idea forward, the project partners of the universities in Tallinn and Prague, the University of Applied Sciences and Arts Northwestern Switzerland, and Heidelberg University of Education developed teaching materials, compiled an international comparison of school curricula regarding remote sensing, and provided a multilingual platform (www.ychange.eu) for promoting the materials and to conduct remote sensing student projects. The teaching materials were presented in various multiplier events, where also data was collected to assess and evaluate the project's outcomes in scientific studies.