Facing Childhood Malaria Through Sustainable Urban Planning:
A Spatial Risk Modelling Approach to Foster Public Health-Based Urban Structure and Infrastructure in Akure, Nigeria.
 
Supervisor: Prof. Dr. Alexander Siegmund
Despite extensive scientific research and developments in medical and health care policies in the last decade, communicable diseases such as malaria still ravage individuals in sub-Saharan Africa (SSA). This reality is peculiar to Nigeria, being a country that accounted for one-quarter (~57 million) of global malaria cases in 2018 as expressed in the World Malaria Report of 2019, with a disproportionate and severe burden among children below the age of five years (U5) thereby posing a public health concern. U5 malaria burden differs within and between places irrespective of the scale of observation. The "spatiality" of malaria disease underpins the need to understand the spatial variability of childhood malaria in Nigeria. This is important most especially in this epoch of rapid urbanisation in the medium-sized city of Akure, Nigeria which is characterised by deficit of urban infrastructures, lack of sustainable urban planning, stressed healthcare resources, poor urban governance, and socio-political divide. To improve our understanding of this thematic issue, exploration of sustainable urban planning as a complementary tool for reduction of, and/or elimination of malaria is therefore significant. This study, therefore, attempts to improve the frontiers of spatial malaria research in Akure, importantly seeking the intricate nexus between urban infrastructures and U5 malaria occurrence. The study leverages advanced spatial statistical techniques particularly model-based geostatistics (MBG) to estimate, predict and determine the factors of direct influence to the propagation of malaria to derive place-based evidence for policy formulation that drives and promotes good health; foster sustainable cities, and communities; and sustainable development.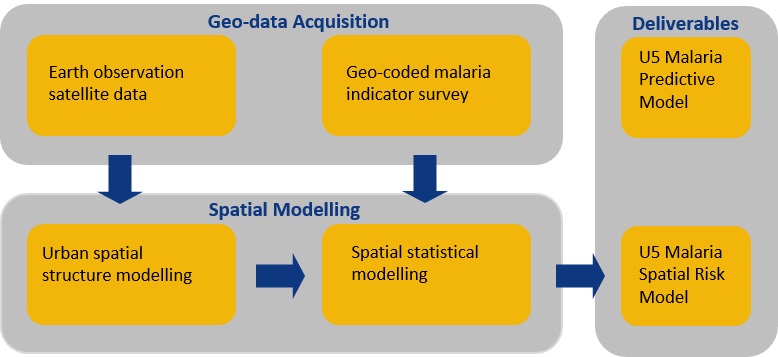 A conceptual data flow for the study design.